Abstract Ye Hongjun, the chairman of Wuhan Wanbang Laser Diamond Tools Co., Ltd., used diamonds to "cut open" the international market but missed China's "Golden Decade". His choice is destined to be different from most people. Ye Hongwei, Chairman of Wuhan Wanbang Laser Diamond Tools Co., Ltd., China's independent training...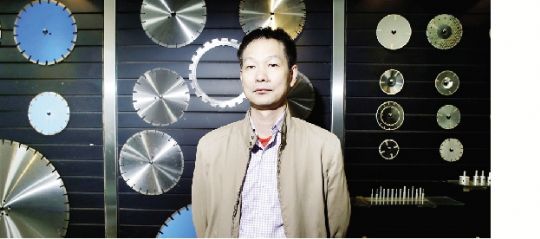 Ye Hongwei, Chairman of Wuhan Wanbang Laser Diamond Tools Co., Ltd.

Using diamonds to "cut" the international market but missed China's "Golden Decade"

His choice is destined to be different from most people. Ye Hongwei, Chairman of Wuhan Wanbang Laser Diamond Tools Co., Ltd., the first doctor of powder metallurgy in China, graduated from Beijing University of Science and Technology in the early 1990s, but did not teach with Daliu, but Business." The company's products are located in the international market and have factories in the United States, Canada, Australia, Germany and other countries.

"Resolutely not to be a porter", Ye Hongyi used the excellent technology to open the European and American markets, but missed the domestic golden decade. He said, "I want to re-explore the domestic market that I gave up before."

Dr. No.'s "non-mainstream" choice

Behind the multiple identities of Ye Hongwei's chairman and technology madman, the famous doctor is a label that cannot be bypassed.

In 1991, Ye Hongjun graduated from the Department of Materials Science and Engineering of Beijing University of Science and Technology with a major in powder metallurgy.
Wearing the "first" aura, Ye Hongyi did not follow the "mainstream" of the time to teach at home, but chose to enter a Shenzhen company to do research and development.

Ye Hongwei is a native of Zhangzhou, Zhejiang Province. He studied in Beijing. After he graduated from Ph.D., he worked in Shenzhen for ten years. He finally left his career in Wuhan. He said that the connection with Wuhan originated from various coincidences.
During his work in Shenzhen, Ye Hongqi once switched to investing, but he was reluctant to leave the technology and knowledge for many years. He then invested more than one million yuan in Guangdong to set up a small company to engage in diamond technology research.

In 2002, the industrial zone where the company was located was to be converted into a scenic spot. At that time, in addition to operating his own company, Ye Hongjun also worked in an old laser company in Wuhan. "I participated in the cooperation of Huake's national key laboratory during the work, researching diamonds. Tool welding technology, met experts in the field, and accumulated a lot of resources."

"In addition, the real economic environment of the development zone is very good, and it is safe to operate the enterprise according to the market economy." Tianshidi Lihehehe finally moved the company to the Wuhan Economic and Technological Development Zone.

Do not make an OEM to win the international market

From the beginning of the venture, Ye Hongyi set himself a "dead rule", not a porter, not an OEM (OEM), but focusing on technology, products, market research and development.

High technology will inevitably bring high prices. After a few years of focusing on the domestic market, Ye Hongjun gradually feels helpless. "The domestic market does not need such high-tech products, and the profits are thin." In 2009, he adjusted his strategy and began to enter the overseas market. The first stop was the United States with the strongest technological innovation capability.

After the financial crisis, the United States introduced a policy of stimulating domestic demand. One of them is the highway renovation. It consumes no less than 5,000 diamond saw blades per day and has a market capacity of hundreds of billions of dollars. It has become the world's largest and most demanding diamond tool.

Seizing this opportunity, Ye Hongjun specializes in large-size high-power diamond saw blades developed in the United States, which is twice as efficient as the five local counterparts in the United States.

After more than two years of development, Wanbang has occupied 5% of the US market share. Many cities in the United States know a diamond tool company "DTT" from China (Wanbang English abbreviation). At present, the banner of Wanbang has also flew to Germany, Australia and other places.

High technology has brought high benefits to Ye Hongwei. 1.2 m saw blade, priced at 1,500 US dollars, 650mm saw blade, 600 to 800 US dollars, the price is ten times that of the same industry, "high technology, not afraid of no market", Ye Hongyi also revealed a small secret, then sold to the United States The products still have a gross profit of more than 50% even in the production of Chinese goods through land and sea.

Because of complacency, I lost the "Golden Decade"

However, the positioning of high-end and innovation has also caused Ye Hongjun to miss a lot of opportunities. Ye Hongjun admits that he missed the domestic "Golden Decade". At that time, there was a lot of diamond tool factories in Ezhou, which was close to Wuhan. At first, he was not optimistic, and he did not want to participate in the competition. However, after more than ten years of development, the diamond industry in Ezhou has become quite large and has become a group of companies that produce saw blades.

"Recalling that I might see my own achievements at that time, I was complacent and directly gave up the whole market, and they just caught up with the dividends brought about by the rapid development of China's economy in the past decade." For his mistakes, Ye Hongzhen was outspoken.

Therefore, during the interview, he constantly emphasized the need to adjust the product structure, but this does not mean that he is going to do the low-end market. "Competing with small businesses, since we have missed the momentum of rapid economic development, we We have to find other breakthroughs, we still have to rely on technology."

In terms of technology, Ye Hongjun said that domestic enterprises should not be able to catch up within three or five years.

For the future, for the domestic market, Ye Hongwei is also full of hope, "now China is about to enter the highway maintenance phase."

In his view, the service life of the expressway is generally 12 years. The domestic highways are built on a large scale in the same period. Once entering the maintenance period, the project is quite large, and the road maintenance is a systematic project, and every link must be Completion on time in a certain period of time, easy to complete professional collaboration, which puts high demands on the quality of diamond saw blades. "The opportunity is coming", the simple four words reveal his "ambition" to open up the domestic market.
Manicure Kit,Manicure Set,Dental Composite Kit,Pedicure Tools
YANGJIANG TRI-WIN INDUSTRY & TRADE CO.,LTD , http://www.triwintableware.com